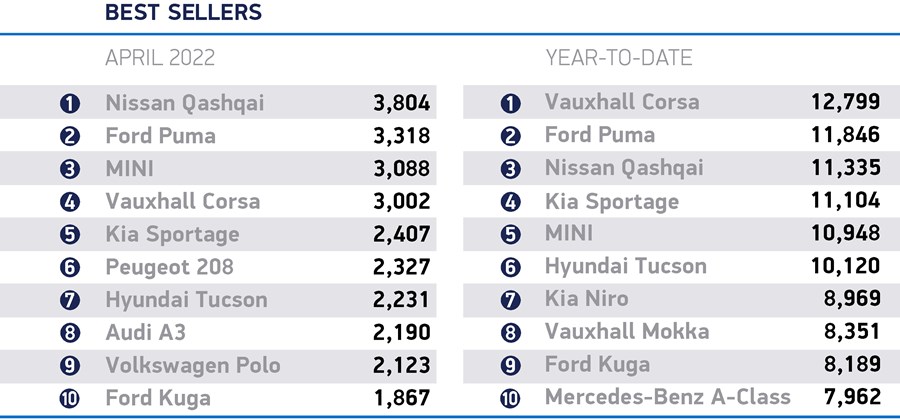 New Car Registrations April 2022
You hear the phrase green shoots of recovery used often, it's a phrase that's been well used in the Motor Industry over the past years, more so since the pandemic.  Just as you start to see the industry overcome one issue, another emerges with a vengeance it would seem.
As Car Manufacturers start to see improvement on lead times with certain models as they begin to manage the short supply of semi conductor chips better, they're hit with further part constraints with the delay on wiring harnesses on account of the War in Ukraine.
As the industry reacts and alters their build lines, it was always going to have an impact on supply temporarily.  This disruption of course is demonstrated with the latest figures released by SMMT, it's certainly no shock that April 2022 figures are 15.8% down from April 2021.
I'm sure that the VAG group will be pleased to finally see some of their models reach the top 10, with both the Audi A3 and VW Polo bucking the trend that they've experienced so far in 2022.
With UK families favouring an SUV style vehicle it's no surprise that 3 out of the top 5 are SUV vehicles, with the Kia Sportage, Ford Puma and Nissan Qashqai.  In fact those same SUV's are not only in the top 5 for April 2022, but they're in that section for the year to date registrations too.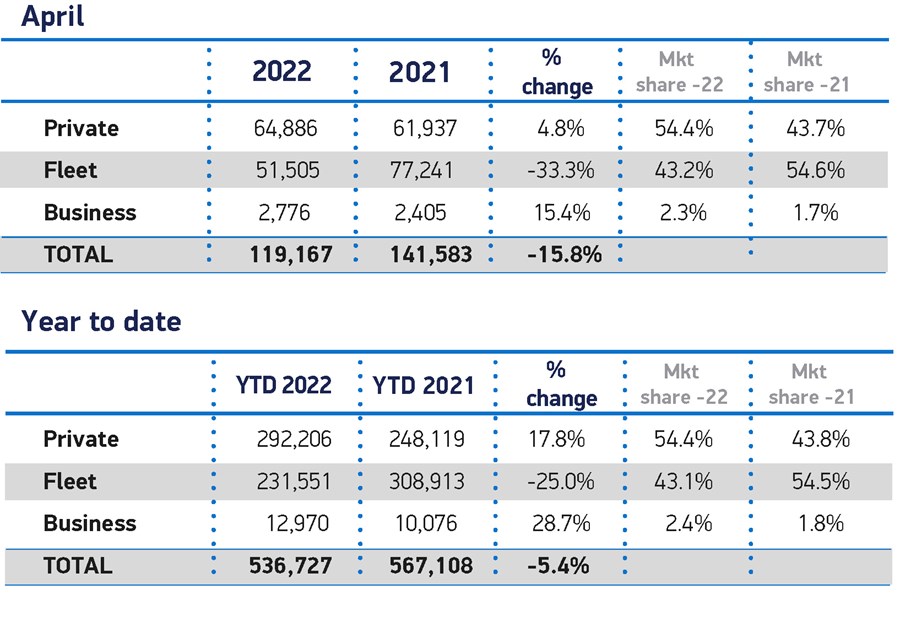 New Car Registrations 2021 v 2022 YTD
Whilst the private and business sector continue to grow, the massive loser is the fleet section.
With the larger fleet sector many company car policies include vehicles based on p11d value - a combination of the vehicles emissions, list price and the percentage of tax the driver pays.  With delays effecting the industry from semi-conductor chips to wiring harnesses the industry is asking customers to be flexible and alter their desired model, something that is not always possible for fleet drivers, so instead they're having to extend their current fleet contracts and wait the longer lead times.
Some companies have reduced their fleet, with a reduction in travel, higher cost of fuel too, it could be a while until we see this area stabilise.
Leasing company fleets have also been affected, without stock, manufacturers haven't been offering higher levels of discount on certain models with batch buys.  However now that production lines have been amended, deals are currently being negotiated, which should impact new car registrations by Q3 2022.  Keep checking our car lease special offer page for the latest hot offers deals.
Year to date figures show a decline by 5.4% because of the private an business strong performance, helping to pull back some of fleets under performance.